FOR IMMEDIATE RELEASE: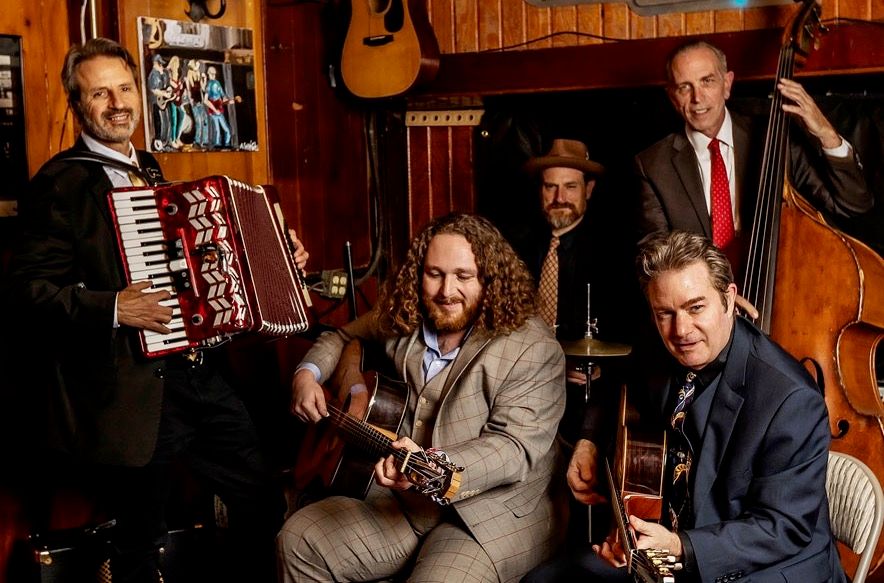 (Photo Courtesy of The Argonaut) 
HOT CLUB OF LOS ANGELES CELEBRATES THE 10TH ANNIVERSARY OF THEIR CINEMA BAR RESIDENCY 
Southern California Gypsy Jazz Ensemble Will Have Surprise Guests Throughout Their December Residency To Mark Commemorate The Occasion  
Los Angeles, CA November 2021—Hot Club of Los Angeles, So Cal's premier gypsy jazz ensemble, hailed by Jackson Browne as "an LA treasure", celebrates the 10th anniversary of its heralded weekly residency at Culver City's famed Cinema Bar every Monday during December, 2021. As always, there is no cover, but you must be 21+ to enter. 
During the shutdown phase of the pandemic, the band streamed performances  (without in-person audiences) from the Cinema Bar and other locations, when  conditions permitted, until resuming its in-person residency in June, 2021.  
During its shows on Monday December 6, 13, 20 and 27 (9-11:30pm), the group will feature special surprise guests, and will also offer signed copies of Cinema Swing, its critically acclaimed full-length CD, for sale at a specially discounted holiday price of only $10. 
According to the LA Weekly, HCLA "keeps gypsy jazz alive"; the Argonaut reports that the band "revives the spirit of 1930s Paris"; and Mike Myers of the Santa Monica Arts Commission writes, "best live music experience in town!"  
Hot Club of Los Angeles was founded in 2011 as a gathering of local established musicians with backgrounds in country, jazz, folk, blues and world music to perform the repertoire of Belgian guitar virtuoso Django Reinhardt (1910-1953). Reinhardt pioneered the hybrid genre now known as gypsy jazz, popularizing it with his Quintette du Hot Club de France in 1930s Paris. 
The group's album, Cinema Swing, was released March 6, 2020 and has earned rave reviews. Produced and mastered by the band's drummer, Jim Doyle, and mixed by Kevin Jarvis at Sonic Boom Room, the new recording features classic gypsy jazz numbers along with original material composed by group members Carl Byron and Paul Eckman. 
The ensemble's popularity has spread from its acclaimed Monday night residency (est. 2011) at Culver City's Cinema Bar, to dance nights at upscale venues such as Clifton's Brookdale Ballroom and municipal and corporate events where the band's up-tempo swing, acoustic shredding and dapper presentation are de rigueur for events requiring vintage sophistication.  
The group headlined DjangoVegas in June, 2021, accompanied Devo's Gerald Casale for Plastic Pollution Coalition's 2020 fund raiser and also served as the house band for 2017 and 2018 all-star Artists for Peace and Justice benefits, curated by Jackson Browne. At those events, the group backed celebrated artists including Browne, Jeff Bridges, Rufus Wainwright, Gaby Moreno, Adam Sandler, Jack Black, T-Bone Burnett, Rita Wilson, Erica Canales, Petra Haden, Judith Owen, Bill Frisell, Jonathan Wilson, Paul Beaubrun and others.. 
The group has welcomed Jackson Browne for mini-sets at the Cinema Bar, and also often featured appearances by gypsy jazz and trad jazz luminaries such as Pablo Hopenhayn, Leah Zeger, Fabrice Martinez, Nora Germain, Alex Budman, Tommy Davy & Luanne Homzy, Jeff Radaich, Kale Stiles, Ted Russell Kamp, Jeff Turmes, Gage Hulsey, Bill Barrett, Antoine Salem, Ethan Emerson, John McDuffie and Michael Saucier as special guests. 
Hot Club of Los Angeles is: 
Josh Workman (guitar) 
Jake Bluenote (guitar/banjo/vocal) 
Carl Byron (accordion/piano/vocal) 
Paul Eckman (upright bass) 
Jim Doyle (drums/vocal) 
### 
For more information:  https://www.hotclubofla.com/ 
Press Contact:  Kim Grant | KG Music Press | Kim@KGMusicPress | t. 626-755-9022 
MEMBER BIOS 
JIM DOYLE (drums/vocal; co-founder) 
Jim is a founding member of Hot Club of Los Angeles and also serves as the band's producer. His credits as a lauded drummer/percussionist sideman and session musician include work with Jackson Browne, Brian Setzer, Paul Overstreet, Joan Osborne, Tim Armstrong, Granville Automatic, Ted Russell Kamp, John Nau, Rancho Deluxe, Jeff Turmes and Charlie Terrell among many others. Jim's drums can also be heard on film and TV soundtracks, as well as in commercials for Domino's Pizza, AT&T, and Sony Playstation, among many other brands. He also produces and records a wide array of artists and bands in his recording studio, Doyle Audio.  
CARL BYRON (piano/accordion/vocals; co-founder) 
Carl is a founding member of Hot Club of Los Angeles. Hailed by the Los Angeles Times as a "musical ace," he records and performs with a wide range of artists and ensembles as a keyboardist, composer/arranger and music director. Carl has worked with artists including Rita Coolidge, Jackson Browne, Anne McCue, Michelle Shocked, Lori Lieberman, Deana Carter, Bo Diddley, Austin Hanks, Warren Zevon, Jim Lauderdale, Duane Jarvis, Ben Vaughn, the Young Dubliners, Spencer Davis Group, Shane Alexander, Kara Grainger, Donna Loren, Mike Stoller & Gerry Goffin; and with producers David Kahne, Dusty Wakeman, David Baerwald, Peter Case, Ed Tree, David Bianco, Eric Corne, Val Garay, Ira Ingber, Sheldon Gomberg and Moris Tepper among many others. The repertoire of Hot Club of Los Angeles features some of Carl's gypsy jazz compositions. Carl also teaches keyboards and music composition at Musicians Institute in Hollywood, CA.  
PAUL ECKMAN (bass) 
Paul is an in-demand upright and electric bass virtuoso and composer. He joined Hot Club of Los Angeles in 2015. Paul has recorded and performed with an impressive range of top flight acts, including Jessie Baylin, Peter Case, Rick Vito, Trini Lopez, Connie Stevens, Jake LaBotz, Jeff Turmes, and many others. Paul is also the bandleader of Orchestra Superstring, an instrumental ensemble that fuses an exotic, hypnotic blend of Afro-Cuban, Latin and other World music styles on its albums "Orchestra Superstring" and "Easy"; and which features other notable members, including DJ Bonebrake, Danny Frankel and Debra Dobkin. Paul has also contributed his own original gypsy jazz compositions to Hot Club of Los Angeles' repertoire.  
JAKE BLUENOTE (guitar/mandolin/banjo/vocals) 
Jake is a guitar, mandolin and banjo virtuoso at home in a wealth of diverse styles, including gypsy jazz. He joined Hot Club of Los Angeles in 2016. A poet, metaphysician, member in good standing of The Dodgson Rangers and prolific multi-instrumentalist, recordist, and songwriter, Jake's breadth of unusual musical interests and talents is surpassed only by the extent of his philosophical and musical vision. He is a specialist in all things counter, original, spare and strange. Jake's own Electric Eden is a musical universe where mammoths roam the Berkshire downs and banjos ring out side-by-side with paisley plainsong and the peals of a Rickenbacker bass.  
JOSH WORKMAN (guitar) 
Josh is a master guitarist, heralded for his work as a former member of The Hot Club of San Francisco and lauded for his supreme command of diverse musical styles, including gypsy jazz. He joined the Hot Club of Los Angeles in 2017. Josh's extensive credits as a sideman and session musician include work with Jon Hendricks, Benny Green, Lynda Carter, Indigo Swing, Brian Setzer, Deborah Harry, The Jazz Passengers and many others. His performances and compositions have been featured on film, TV and video game soundtracks. Josh also writes for Guitar Player, Premier Guitar, and other music publications. His album 'Jumpin' at the Border' received critical acclaim in many publications, including Downbeat, and is featured on jazz radio playlists. Josh also teaches guitar at Musicians Institute in Hollywood, CA.